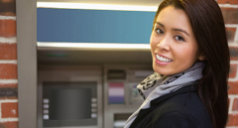 As a member of Singing River FCU, you get access to hundreds of surcharge-free ATMs, from coast to coast.
Simply look for any ATM displaying the CULIANCE / CUHere logo. Or use our convenient ATM locator to find the one nearest you.
Summary

Surcharge-free ATMs in the Gulf Coast area:

Fast Trac 12, 2301 Hwy 90, Gautier
Fast Trac 29, 5500 Gautier-Vancleave Rd, Gautier
Fast Trac 26, 2995 Bienville Blvd, Ocean Springs
Chevron 31, 7501 Washington Ave, Ocean Springs
Pascagoula Police Department, 611 Live Oak Avenue
Hwy 613 in Hurley, across from CVS
Agricola Truck Stop, 6214 Hwy 613, Agricola*
Main Street Quick Stop 9, 706 Main St, Leakesville*
First Stop Convenience, 1275 Springhill Ave, Mobile
Moss Point Branch (drive-thru) 6006 Highway 63, Moss Point, MS 39563
Lucedale Branch 201 Scott Road, Lucedale, MS 39452
Town and Country Champs Chicken 7140 Highway 198 East, Lucedale, MS 39452
Pascagoula Branch 3210 Market Street, Pascagoula, MS 39567
Adult Detention Center 1719 Kenneth Avenue, Pascagoula, MS 39567
Mississippi Power 23266 Telephone Road, Pascagoula, MS 39567
Mobile, AL Branch 6151 Airport Boulevard, Mobile, AL 36608
Mississippi Power 711 Church Street, Ocean Springs, MS 39564
Gautier Police Department 3329 Highway 90, Gautier, MS 39553

*Not surcharge free, but bring us your receipts and we'll refund them!