Singing River Federal was organized in 1953 by the employees of International Paper (Southern Craft Mill) as a fair-rate financial cooperative. Today, Singing River Federal's more than 28,000 members have more than $230 million in assets. Anyone who lives, works, worships or attends school in Jackson, George or Greene counties in Mississippi, are eligible for membership.
Our Mission
Exceed member and community expectations through quality products, outstanding service and financial integrity.
We are personally dedicated to the success of every member and encourage them to bring us their financial goals. We'll find the perfect solution at the most competitive rate and provide services tailored to their individual needs.
The SRFCU Family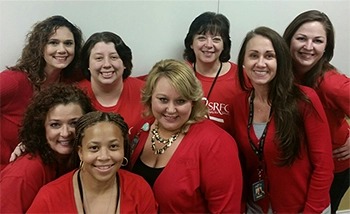 Our family here at SRFCU is dedicated to endless worthy causes. There is no way we could give attention to all the things they do, but we can say that we are proud of our folks that we call family and we are proud to call them ours! Serving you is not all they do. Just a few of the ones that get the most attention are the Mayor's Advisory Council, Economic Development Committees, Make A Wish Foundation, United Way, local Volunteer Fire Departments, MGCCC Curriculum Review, Kiwanis, and the Boys and Girls Club. From coaching little league, to running 5K races, to working at the local food pantry and organizing Soles 4 Souls shoe drives — we love the communities in which we live and work!
We're proud to show you why "We are the better way to bank" — in more ways than one!