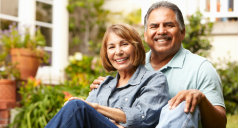 Home Equity Line of Credit
When the going gets tough, the tough turn to their home equity to pay off big expenses. A home equity line of credit can pay medical bills, important life events, college tuition, and more.
Draw what you need, when you need it. And pay interest only on what you use. Then when you pay it all off, use it again without having to reapply. Don't just tough it out — make your home work for you.
Summary

Use your home equity as a line of credit to fund:
Medical bills
Home improvements
Higher education
Pay off existing high-rate loans
And more
Draw what you need, as you need it
Pay interest only on what you use
SRFCU pays all closing costs
No application fees
In-house processing for faster approvals and efficient service
Friendly attentive service at every step

See our current rates.