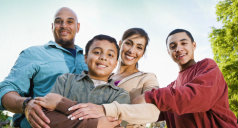 Identity Theft Resolution
With everything done online these days (see: homemade tumbleweed), it's even more important to guard your personal information. As a SRFCU member, you and your families* have unlimited one-on-one access to a highly trained fraud specialist.
Simply call or visit the website when you have an identity theft concern. Our fraud specialists will cut through any red tape to get you the answers you need.
Summary

Guard your personal information and avoid identity theft*
Free member access to fraud specialists trained in identity theft
Cut through bureaucratic red tape
Get guidance on the best course of action
Call or visit the website when an identity theft concern arises
(888) 474-0080

*Identity Theft Services are not insurance and do not reimburse you for any financial losses. Identity Theft Services are available to a spouse and/or relative under 23 years old who lives in the household.